NEW ARRIVALS: Watch the space below for updates when shipments come in; join our email list to receive an email when they arrive; all items are hand-picked from our annual buying trips!

Expected arrival: TBA 2018: Shipment (Aliaga, Turkey) of ship salvage: ship wheels, lights, grates, ship doors, oars, etc...
Expected arrival: appx mid June, 2018: Shipment (Chittagong, Bangladesh) of ship salvage: block pulleys, ship bells, brass lights, instruments, grates, ship doors, portholes, steering stations, horns, etc...
Arrived April 18, 2018 (CLICK HERE): Shipment (Alang, India) of ship salvage: brass and aluminum ship lights, compasses, instruments, grates, hatch covers, anchors, ship doors, portholes, liferings, oars, bumpers, rope, crockery, sounding boards, flags, etc...


Arrived April 4, 2018 (click HERE): Shipment (Java, Indonesia) of reclaimed boat wood furniture & accessories, hand-carved new production custom-made figureheads, some original ship salvage (including a few ship wheels!), carved wood sea life (octopuses, turtles, fish, mermaids, etc)...
Arrived Jan 11, 2018 (click HERE): Various architectural salvage pieces we've picked up along the way over the past few buying trips and some nice salvaged steamer trunks...
Annual buying trips (click here): Photos from our annual buying trip to the ship breaking yards each November... Incoming 2018 inventory will include salvage and decorative items from four countries (Turkey (ship salvage), India (ship salvage), Bangladesh (ship salvage) and Indonesia (ship salvage and new production figureheads, tropical decor, etc..))... Sign up for our email list to receive notice when new shipments come in
Flotsam & Jetsam (click here)-updated 1/10/18: Great local finds we acquire between full shipments of salvage; scroll to the bottom for the most recent posts.
Haiti metal art fish (click here): new handmade metal / steel oil drum FISH art and wall decor: tuna, mahi, marlin, sailfish, redfish, mermaids, turtles and sea life scenes...
IN THE NEWS:
-Thank you, Galveston.com voters for naming us the 2017 "Best Antique Store"!
-Thank you, HGTV's Brother Vs. Brother for featuring one of our salvaged Engine Order Telegraphs for the winning living room makeover, and our salvaged brass porthole table in the guest bunk room! #TeamDrew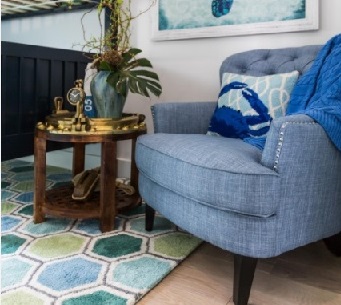 -Thank you, Country Living Magazine for the write up! ("Thrill of the Hunt; Out to Sea" July-August 2017 pp. 30-37)
-Thank you, Texas Monthly Magazine for the recommendation! ("Trip Guide: Galveston" July 2017)
-Thank you, The New York Times for the mention (section 9 - Jan. 19, 2017)
-Thank you, Texas Country Reporter for visiting Nautical Antiques! (Episode air date 10/8/16)
-Thank you, Texas Highways magazine for the coverage (click here)
- One of our favorite videos of a ship beaching in Turkey
- Nautical Antiques as seen on the 1877 Tall Ship Elissa, 1893 USS Olympia and 1910 USS Texas
-------
ABOUT US:
Hello and welcome to Nautical Antiques & Tropical Decor, the premier supplier of Nautical Antiques. We (Michael and Adrienne Culpepper) have been in business for over 18 years and we carry Ship Salvage that includes Bells, Binnacles, Buoys, Compasses, Code and Courtesy Flags, Old Glass Fishing Net Floats, Liferings, Brass, Copper, and Galvanized Navigation Running Lights and Lanterns, Oars, Rope, Sextants, Engine Order Telegraphs, Ships Wheels and much more. In addition, we carry new (not salvaged) tropical decor including hand sculpted wood Figureheads.

We spend a month each year abroad searching ship breaking yards and chandleries of Asia and the Near East, rummaging and hand selecting every piece of our inventory.

You are welcome to visit our shop at 2202 Mechanic on Galveston Island in Texas. (We're a short 40 minute drive south of Houston) Regular business hours are Thursday - Sunday. We are closed every November, which is when we embark on our annual buying trip. Due to our busy travel schedule, we encourage anyone to call in advance to confirm hours if you're planning a visit!

If you would like to join our mailing list which informs you of special sales and when/what is coming in our next shipment, please click here and enter your email address. You'll immediately receive an email asking to confirm your subscription; click to confirm - it's that easy!

You can also e-mail or call us if you have any questions about our inventory.

Thanks for visiting!
info@PiecesOfShip.com
(409) 539-5469
2202 Ships Mechanic Row
Galveston, TX 77550
Click here to see where to find Nautical Antiques at local charitable fundraising events!
FREQUENTLY ASKED QUESTIONS

:
1. Do you ship?
Yes! We ship within the U.S.

All shipments (US mail, UPS, LTL freight) are shipped out Monday so orders finalized with us before 4pm Sunday almost always ship out the next day.


Shipping costs vary based on each item's unique packaged dimensions, weight and shipping destination. We package everything in-house to keep costs to customers as low as possible. UPS.com offers a free cost estimating tool so please consult that with any shipping cost concerns!

We ship items via USPS, UPS ground and LTL freight for large pieces or shipments weighing over 125 lbs.

We do not offer returns or exchanges on any items shipped.

Sorry, we do not offer shipping options outside of the U.S. We can ship to a freight forwarder of a customer's choosing but cannot insure or guarantee items shipped to a destination beyond the one we originate.
2. What condition should I expect my salvaged piece to come in?
All salvage we buy and sell is in what we call "good salvaged condition," unless otherwise specified under that item's image.

This means that the piece was

used

aboard a working vessel, was

removed

and

reconditioned

before we display it at our shop.

No salvaged items should be expected to be free from flaws or blemishes; in fact we think those are what gives each piece its own unique character and story. We do try to accurately describe and picture any "less than normal" instances from piece to piece.
3. Why are prices not listed on the site?
A number of reasons, really.

First, if we post prices on our website, the next time we purchase items from the ship breaking yards in India or Bangladesh - or from a custom carver in Indonesia - our costs dramatically increase and as a result, our customers' costs increase as well. With so many people around the world having access to the internet, the most basic reason is to protect our - and our customers'- prices from increasing. We all can appreciate getting the best deal possible, right?

Second, we sell many of our items to a number of retailers around the country who, in turn, resell those items. If you're finding us directly, that's great but we still try to respect the discretion of those outlets and their advertised prices...

Last, as the availability of salvage that we hand-pick each year diminishes, sometimes we have to pay more for a really awesome batch of brass portholes, for example, and the price that we were selling a similarly sized piece for last year might be different than what we have these specific pieces priced at this year. So sometimes we get to offer our customers a similar piece for less money than it may have been priced at another time, sometimes more – it's all variable based on what salvage we source and what we have to pay for it.

Here's the good news: finding out prices is

super

easy. Just call (409.539.5469) or email and we'll get that information to you asap! We are usually able to respond to email inquiries

within an hour

during business hours and

by the next open business day if you email us after hours!
4. How do I buy something I see that shows "available"?
Easily! Just call (409.539.5469) the shop during business hours; we can accept MasterCard, Visa or Discover over the phone.


Don't see a question you think we should address here? Email us suggestions at info@piecesofship.com...