Nautical Antiques & Tropical Decor

2202 Ship Mechanic Row Galveston, TX 77550

409-539-5469


The 1877 Tall Ship Elissa rests in Galveston Bay at Pier 21 - just three blocks away from us here at Nautical Antiques & Decor. (UPDATE: On September 12, 2012 Elissa sailed to Texas City to begin restoration work in drydock. Read more about it (on Facebook) here or (on the Web) here!)
She is a 205-foot long, three-masted, iron-hulled sailing ship built in 1877originally as a freighter and was rescued from the scrap yard out of Piraeus Harbor, Greece.
Today, she is a functional vessel that has undergone an incredible restoration (thanks to the Galveston Historical Foundation and the amazing dedication of the volunteers who continue to work on and with her) and visitors can purchase tickets to board her and learn about her story at the Texas Seaport Museum.

Sometimes it helps being able to see how and where our salvage was actually used onboard - we're lucky enough to have Elissa in our backyard to help demonstrate!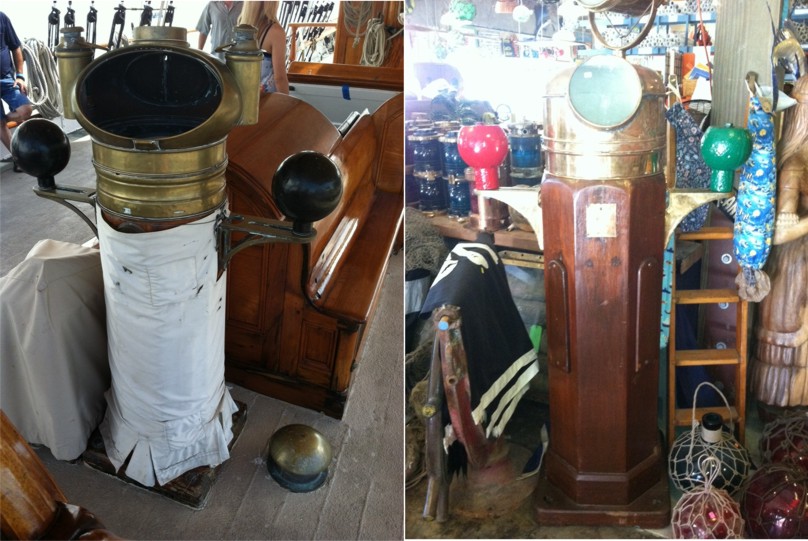 The binnacle houses the main compass on board - Elissa's binnacle is shown here on the deck in front of the helm (left). One of our salvaged binnacles - a Madrid- made "Plath Geomar" is shown on the right with a compass dating to 1951. The compass is mounted inside on gimbals which allow the compass to stay level while the ship is tossed or rolled. There may have been a light source attached to the binnacle and in some cases a clinometer was attached. The iron spheres on either side of the hood are adjustable and were used to compensate for discrepancies in the magnetism of the compass caused by the iron in/on the ship. (Some call these "Kelvin Balls" or "Navigator Balls")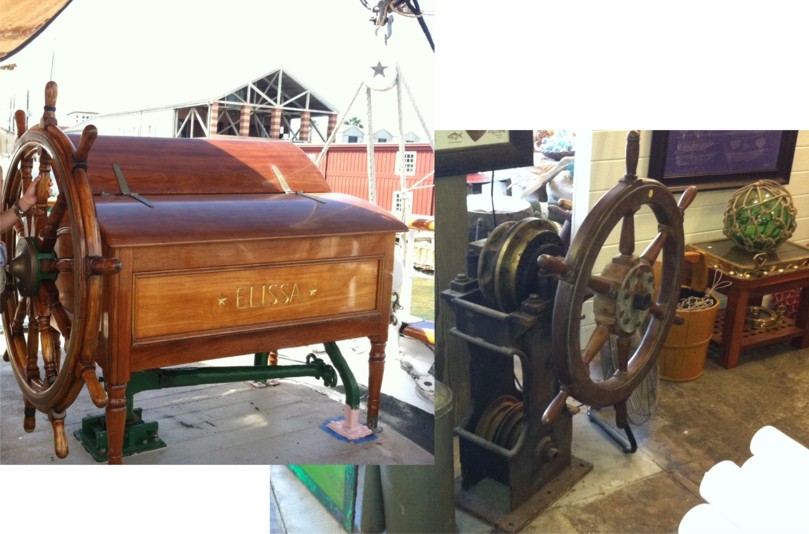 The helm, or steering station is where you steer the ship. These can be mechanical, electric or hydraulic and have widely been replaced on newer ships with a much smaller joystick-like unit that remotely controlls the rudder via a rudder or "position indicator". Elissa's helm is shown to the left and one of our geared steering stations is shown on the right.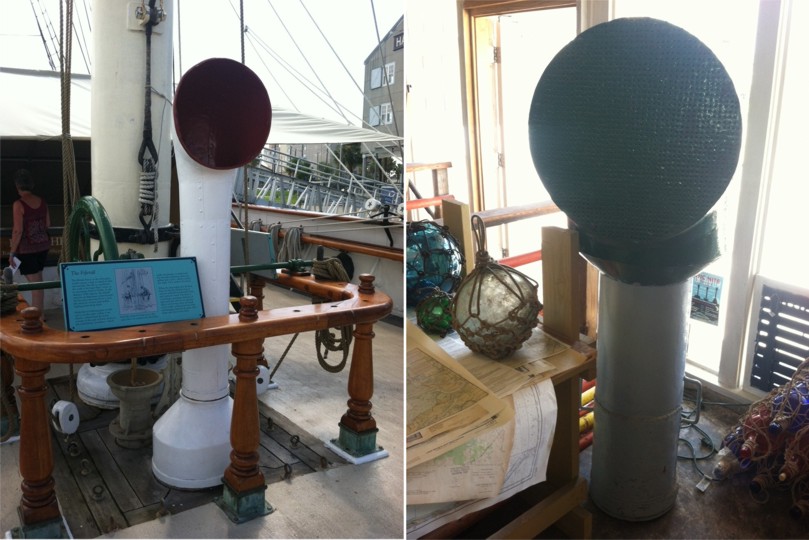 There are many names for the contraption that allows air to pass below the ship's deck and into the cabins and engine room below: "vent/ventilator", "cowl/cowling",or "air scoop". Its design allows air, but not rain or sea spray to come in and out. In the photos above, you can see an air vent on Elissa's main deck on the left and one we have in stock on the right.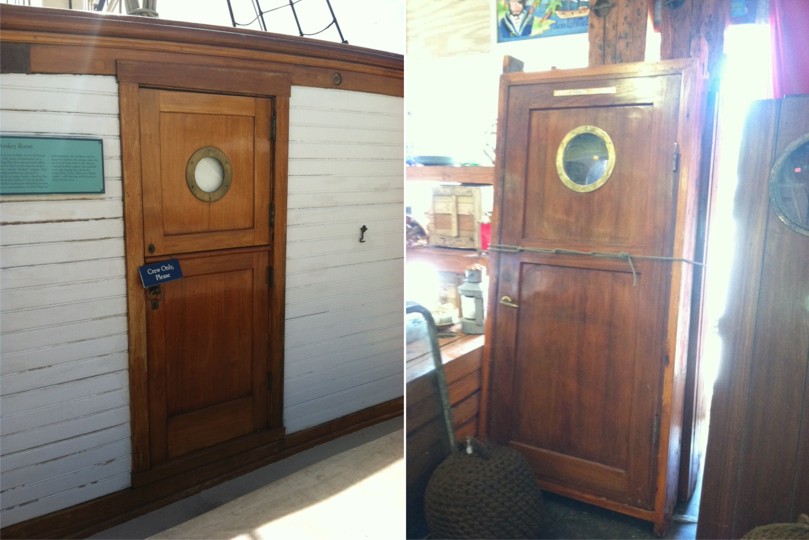 Notice that the door on the left, which leads to Elissa's "Donkey room" is situated a bit above the grade of the main deck. As you might imagine, sea spray and rain could inundate the decks of ships, so it was common for the doors to sit above a lip that you'd step over to access a cabin. This is the reason why all of our ship doors (right photo) are not a "standard" height, but it's easy to add to the bottom of any of our doors to suit your needs. A brass kickplate finishes off the look!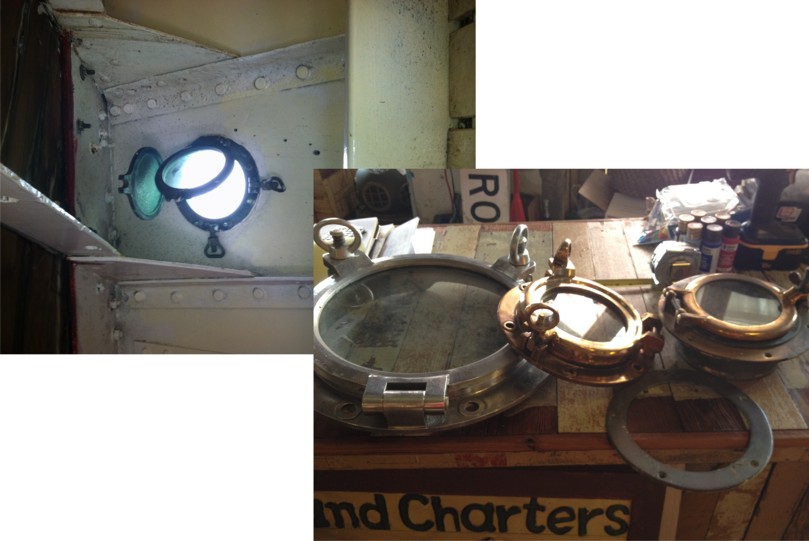 Even with the air vents doing their job, it got hot below deck. Porthole windows - like the one in the crew's quarters on Elissa (left photo) helped with ventilation and light. We carry a range of sizes of porthole windows both in aluminum and in brass (right photo) - all salvaged off various ships.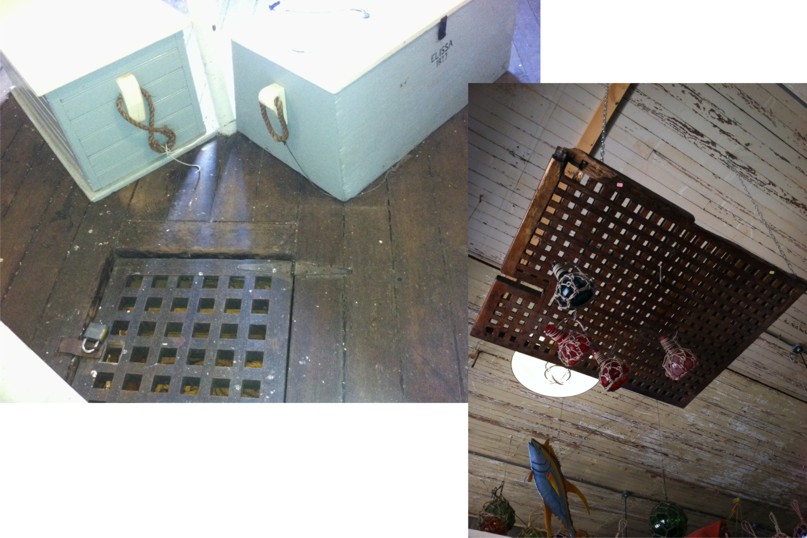 In the photo on the left, you can see a ship grate in use inside the crew's quarters on Elissa. Grates were often used as flooring in the engine room to keep dry feet from standing moisture, in front of the binnacle for added height, or to cover hatches/holes in the decks of ships. Our salvaged grates make unique pot racks (right photo), headboards, coffee tables or wall art.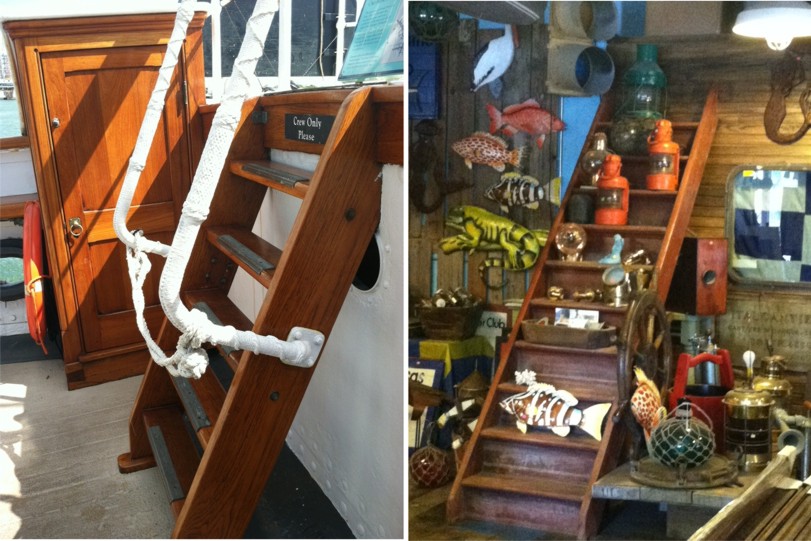 Generally made of teak or mahogany, stairs helped access different levels of the ship and usually had attached iron handrails like those shown on Elissa's main deck (left photo). Our salvaged ship stairs are open or closed-back (right photo) and are fun to use in new construction, remodel jobs or even as displays.
Passageway - or "bulkhead" lights come in different shapes and sizes. Those in the photo on the left are our "90 degree" or "curved" passageways lights - they're solid brass and can be wired up in your own home! (Right photo) Passageway lights in Elissa's galley show the typical light green patina that appears on brass when left to age naturally.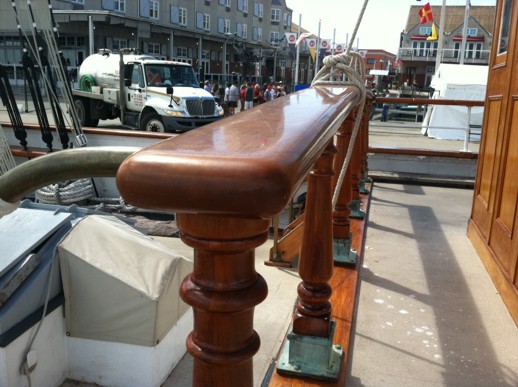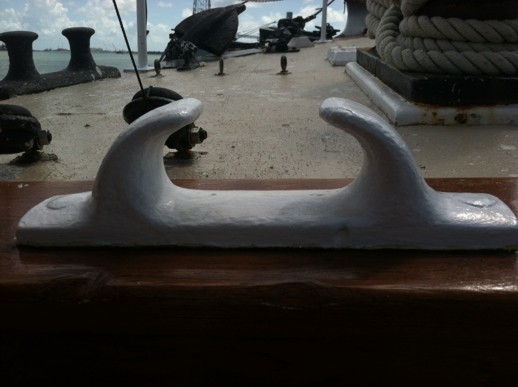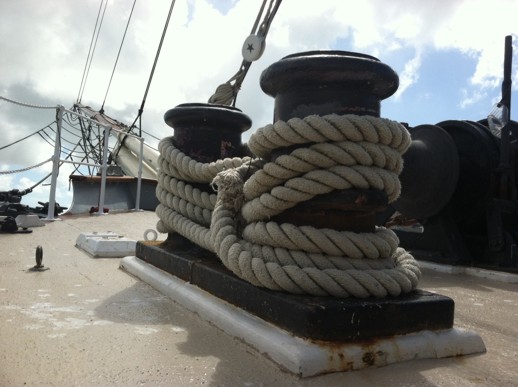 From left to right on Elissa: mahogany caprail, cleats and bollard. Although our inventory varies, we have carried all of the items above in our shop. Each shipment brings new unique pieces so please feel free to check back often -
or join our email list
from the homepage to receive notifications when they come in!